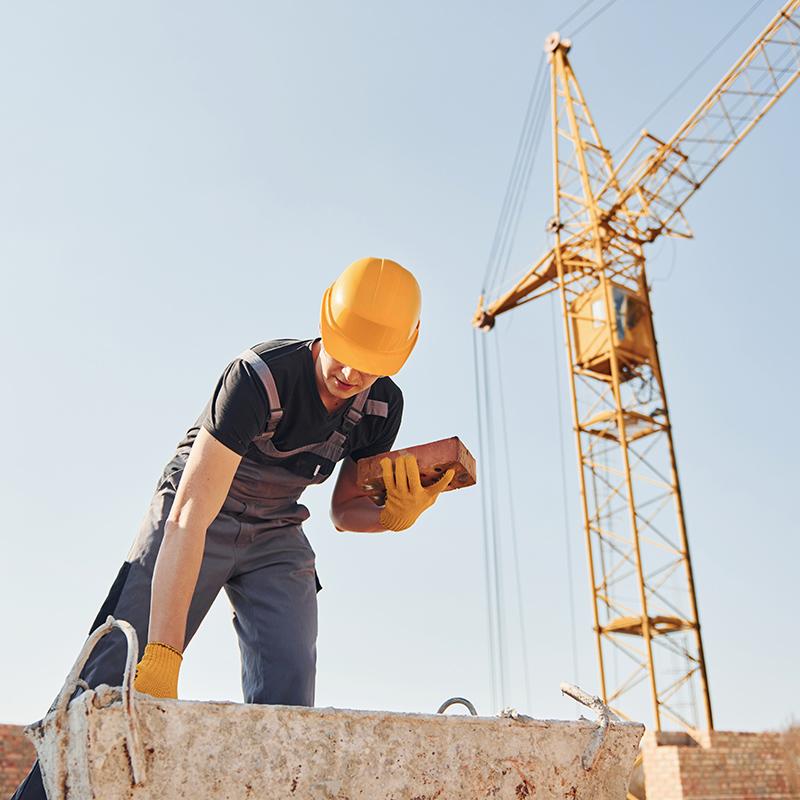 Solutions
Ten-year Liability Insurance
As an entrepreneur in the construction industry, you can be held liable for faults in the construction up to ten years after the completion of a project. Decennial insurance provides protection in the event of such claims.
As a contractor, architect, commissioning authority or seller, you are liable for errors and serious defects in the construction work for ten years after the completion of a construction or renovation project. If anything goes wrong within this period, you will be held liable and the costs of the repair may be recovered from you. Ten-year Liability Insurance (or decennial insurance) protects you from that risk.
What risks and damages does the Ten-year Liability Insurance cover?
Decennial insurance covers the civil liability of those involved in a construction project for a period of ten years after acceptance of the works. Both immovable works and intellectual services relating to the construction works are insured. Note: to cover your professional liability another insurance policy applies!
Cover is limited to defects in the solidity, stability and watertightness of the closed shell construction, when they endanger the solidity or stability of the home. Purely aesthetic damage and purely immaterial damage are excluded.
The insurance compensates for the value of the reconstruction, with a limit of €500,000 (linked to the ABEX index). Is the reconstruction value of your building higher than half a million euros and do you want to fully insure this value? In that case, you must have a higher insured amount included in the special terms and conditions of your policy.
Compulsory insurance for a large number of construction companies
Until a few years ago, Ten-year Liability Insurance was only mandatory for architects. The Peeters Act changed that on 1 July 2018. Since then, many other parties and service providers in the construction industry have also been required to have their ten-year liability insured for certain construction works:
architects,
contractors,
engineering firms (stability),
stability engineers,
town planners (unless they work for a government department that provides this insurance),
project managers,
interior designers (renovation stability).
For other construction parties, the obligation does not apply:
engineering firms and engineers for special techniques,
surveyors,
health and safety coordinators,
environmental experts,
landscape architects,
energy experts (EPB certifiers),
auditors,
quantity surveyors,
property developers.
Although they are not required to take out decennial insurance, it is recommended for them as well: After all, all these parties can also be held liable in the event of a claim.
For which construction works can Ten-year Liability Insurance be taken out?
Every partner involved (including the commissioning authority and self-builder) can take out a Ten-year Liability Insurance policy for construction or renovation work.
The legal requirement to take out a decennial insurance policy only applies to a limited number of structures:
for the renovation or construction of a dwelling (a building intended for habitation)
which is located in Belgium
for which the intervention of an architect is obligatory
and for which after 1 July 2018 a building permit was issued.
FAQ's
Do you have further questions concerning this type of insurance?
Find answers to the most frequently asked questions about this type of insurance here. Is your question not included? Feel free to ask our experts.
Contact us
How can I check if the parties on my site are insured?
The architect must ensure that the contractor(s) and other service providers provide a certificate of their Ten-year Liability Insurance prior to the commencement of work. Even on the site itself, every builder must have his insurer's certificate to hand.
In addition, the name and company number of the insurer and the number of the insurance contract must appear on all contractual documents.
The Order of Architects and the Order of Surveyors have an additional control by checking the insurance situation of their members.
As a contractor or architect, I work on multiple construction sites. How can I efficiently insure myself?
There are several possibilities. You can take out insurance for a specific site or for several sites per year. We will be happy to help you make the best choice. In addition, you should consider whether you only insure your activities (individual policy) or also all activities of the other service providers on the site (global site policy).
What happens if one of the construction partners goes bankrupt or ceases its activities?
The decennial insurance includes a posteriority guarantee. This ensures that architects and contractors are insured for ten years after they cease their activity.
Can work start on a new residential development if there is still no Ten-year Liability Insurance?
No, the works can only be started when all parties involved have an insurance certificate.