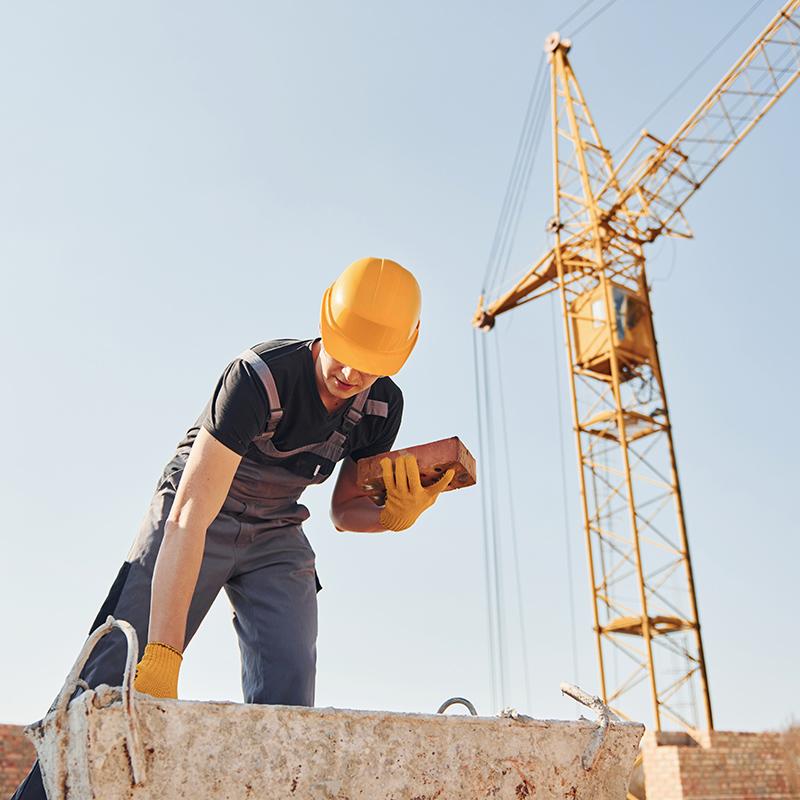 Solutions
VD Construct Solutions: the insurance solution for companies in the construction industry
Insurance for companies active in the construction industry is often very complicated due to the many rules and laws that are associated with the sector. Your solution: VD Construct Solutions.
For professionals in the construction industry, insurance is often a complex matter. Small print in insurance and building contracts, the specific dangers on a building site: it is not easy to assess your risks correctly. In addition, the Peeters-Borsus and Peeters-Ducarme laws impose insurance obligations on certain groups of construction service providers.
With VD Construct Solutions, you get a total concept tailored to your company. We ensure that your insurance package is always up to date, in accordance with the most recent regulations and market conditions. Thanks to our information sessions and our training and coaching programme, you will be able to understand your contacts yourself and know exactly how to efficiently deal with insurance problems on a construction site.
VD Construct Solutions: much more than an ordinary construction insurance
We have developed VD Construct Solutions specifically for the construction industry. With this total concept, we go further than you are used to:
You know exactly what you need: by means of a thorough audit, we examine the risks you run and explain to you in plain language what is insurable and what is not.
You get the best cover at the most competitive price: for your insurable risks, we propose the insurance policy that offers you the greatest benefit - also in terms of budget.
Your activities are the focus: we developed our own construction clauses based on the risks of your sector.
Your insurance policies are always up-to-date: we review your policies annually and adjust them in response to changes in legislation or changes to your company and operations.
You will learn all about construction insurance. Receive clarity about your insurance package? With our coaching and training programme, you will discover how your construction project is structured in terms of insurance, what risks you are exposed to, how you relate to the other construction partners in terms of insurance, and what you need to do in the event of a claim. You will also receive practical prevention tips in order to reduce the risk of damage, which can save you a lot of money.
VD Construct Solutions: a must for architects, contractors, property developers and other building service providers
VD Construct Solutions is a unique insurance concept developed on the basis of practical experience. It is written to suit all players involved in construction projects: commissioning authorities, contractors and subcontractors, architects, engineering firms, project developers, property developers and consultants, and government bodies.
Is your compulsory insurance in order?
Our legislation requires certain groups of construction service providers to insure their ten-year and/or professional liability. Not sure if you are correctly covered? Here you will find more information about the obligations imposed by the Peeters-Borsus Act and the Peeters-Ducarme Act.
Avoiding lengthy legal proceedings in the case of conflicts
Unfortunately, during construction projects, disputes occur all too often on site. Not infrequently, such conflicts lead to legal proceedings that cost the parties involved a lot of time and money. Moreover, there is no adequate insurance solution for either the commissioning authority or the project developers, property developers or (sub)contractors. That is why we developed a unique product to efficiently solve construction disputes through mediation: the mediation policy.
How does Van Dessel make the difference in construction insurance?
Our extensive network and excellent contacts with insurers, lawyers, experts, control agencies and specialists enable us to offer the best solution for every risk.
Tailored to the last millimetre - Standard contracts? These do not benefit you as a construction professional. We tailor your insurance to the risks and specific characteristics of the construction industry. We have developed sector-specific conditions and clauses.
Your training and coaching: greater insight into your insurance - Can you make neither heads nor tails of the small print in insurance and building contracts? Do you finally want to know what you are or are not insured for? During our training sessions, we explain to you the insurance packages, risks and responsibilities for your activities in plain language.
In international construction projects we also assist our customers from A to Z.
Total approach - With our total approach, you can work without any worries. You no longer have to worry about your insurance and you understand perfectly what it's all about.