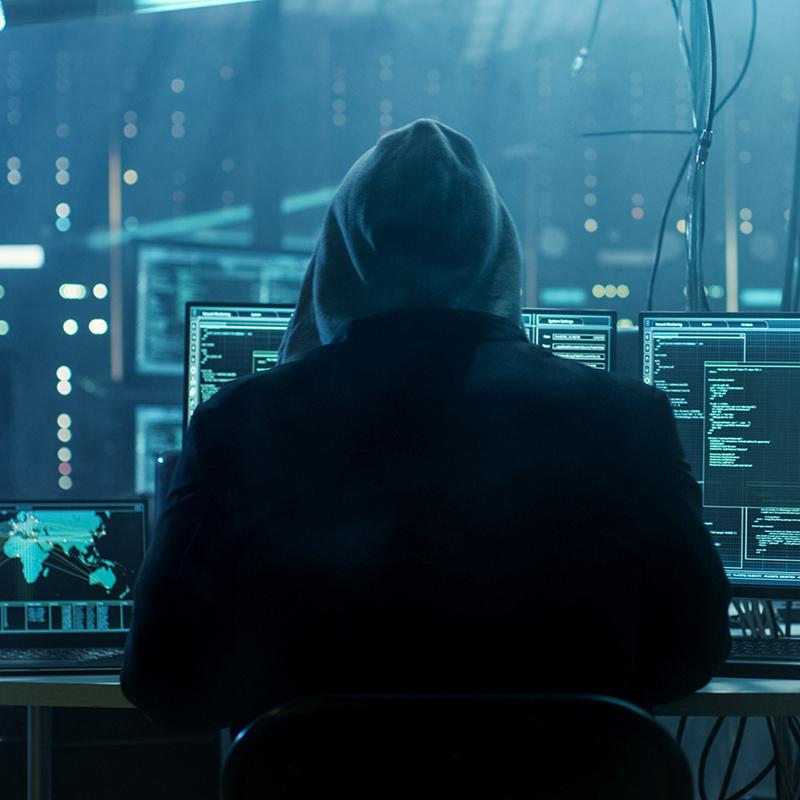 Solutions
Cyber insurance
Cyber insurance protects your company's continuity, liability and reputation from the impact of cyber attacks and data breaches.
Cyber risks: ubiquitous and constantly evolving
Cybercrime has been a scourge for years. Almost every Belgian company has been the target of a cyber attack at some time or another. Fortunately, the extensive media attention for this problem has made entrepreneurs aware of the seriousness of the threat. Many companies have invested heavily in IT security in recent years.
Cybercriminals have therefore become more creative than ever in their attempts to fool their victims. It is therefore essential to beware of a false sense of security: because cyber risks are constantly evolving, even strong IT security cannot provide 100% protection.
Since the advent of the coronavirus, huge numbers of people have been working from home. Remote working poses many challenges to companies in terms of security. Cybercriminals make grateful use of this and try in all sorts of ways to steal confidential information and data from home workers. 
Secure your critical data and avoid costs
With a good prevention plan you reduce the likelihood that cybercriminals attack your business or your crucial data - via hacking, phishing, malware, network scanning or even cyber extortion. But unfortunately 100% security does not exist in the cyber world; there will always be a residual risk.
When you take out a good cyber insurance policy, you arm your business against the possible consequences of cyber damage and the associated costs, which can be high. And these days this is really a must.
You reduce your own risk and cover yourself against unforeseen costs
It is best to cover your own IT systems and business operations against first-party risks. In this way, you alleviate your own costs as a result of a breach or data leak: ransomware, digital forensics, public relations and crisis management, etc. The restoration of IT systems, websites, intranets, programs and recovery of data also requires major costs, time and effort.
A cyber attack often temporarily paralyses your computers and machines and therefore your activities or requires you to start a project or database from scratch again. These costs are high and are often not budgeted for.
You are insured against damage to third parties
Privacy legislation (GDPR or AVG) makes you jointly responsible for third-party risks. Since 25 May 2018, you are required to report a cyber breach or data breach within 72 hours to the supervisory authorities, as well as to all affected individuals or businesses. Such a report can be very costly.
You can count on assistance in the event of an incident
If a cyber incident occurs; you need to respond quickly and appropriately. The help of a lawyer, forensic expert and IT consultant is necessary, but also expensive.
Cyber insurance via Van Dessel: we make the difference
What does Van Dessel cyber insurance offer you?
1. Temporary inactivity allowance
Does a cyber attack bring your business operations to a halt? Then your cyber policy will compensate for lost turnover due to temporary inactivity.
2. Financial contribution for data and system recovery
Your insurance will cover the costs of restoring infected data and systems. Moreover, it also guarantees you fast and targeted assistance after a breach. Experienced security and privacy professionals will help you restore your systems as quickly as possible and notify all stakeholders.
3. Repayment of financial losses or penalties
Loss of money from your account or ransomware in the case of cyber extortion is also refunded, as are administrative penalties imposed by the government in the case of a data leak.
4. Simple rate structure, transparent conditions
Your cyber and data risks insurance clearly and transparently shows you what your cover is, without a host of subscription conditions and with a very clear rate structure.
5. Reimbursement of third party reporting costs
Your cyber risk insurance will reimburse you for the cost of mandatory cyber damage reports to third parties, as well as any penalties that can amount to as much as 4% of your turnover.
6. Prevention advice and free business scan to assess your cyber risks
Prevention is still always better than cure, so we also help with the prevention of cyber crime. You receive specialised advice and we scan your business for cyber risks free of charge. 
Want to know more about cyber insurance?
Our experts will be happy to help. You can contact them via info@vandessel.be or by phone on 03 482 15 30.